Health benefits of chocolates
We've got some great news for you, chocolate lovers! Eating the sweet treat isn't all bad. In fact, there are some excellent health benefits of chocolate.
One of them is that it can help your overall well-being. Researchers have found that those who eat chocolate are more likely to feel less stressed and have improved moods.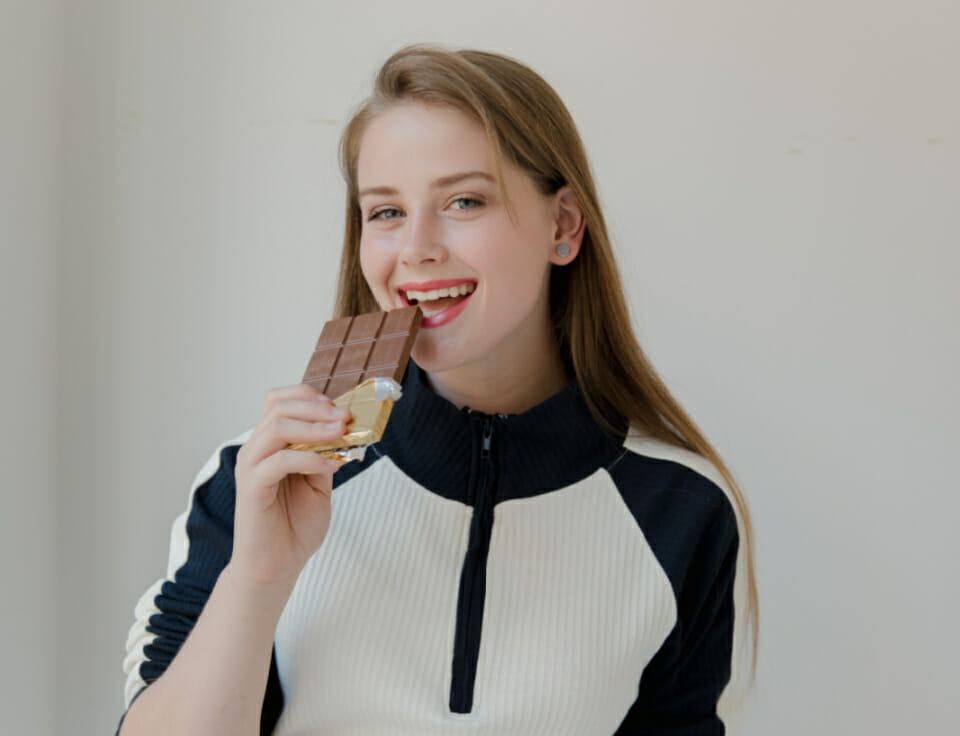 Enjoy chocolate without the guilt, thanks to the health benefits of chocolate
We all love a little chocolate snack, and unless you're allergic, there is no longer any reason to feel guilty about enjoying it when trying to eat healthily. There are some excellent health benefits to chocolate that turns it from being a guilty pleasure to just a pleasure.
Chocolate contains antioxidants and boosts brain health
Experts from the Loma Linda University Adventist Health Sciences Centre in Southern California found that eating dark chocolate positively affects stress levels, inflammation, mood, memory and immunity. This means if you eat chocolate with a high cocoa percentage (minimum 70%), you'll get a brain boost.
This is because dark chocolate contains flavonoids, antioxidants that are anti-inflammatory and known to help improve brain and heart health.
Moreover, flavanols can help boost blood flow to the brain, which is why you might have improved attention and memory. So you get some of the extra health benefits of chocolate when it's darker.
One reason we all love chocolate so much is that it stimulates dopamine in the brain. This is a feel-good chemical. It also helps produce serotonin, which is a calming chemical in the brain, so this might be why we feel so calm.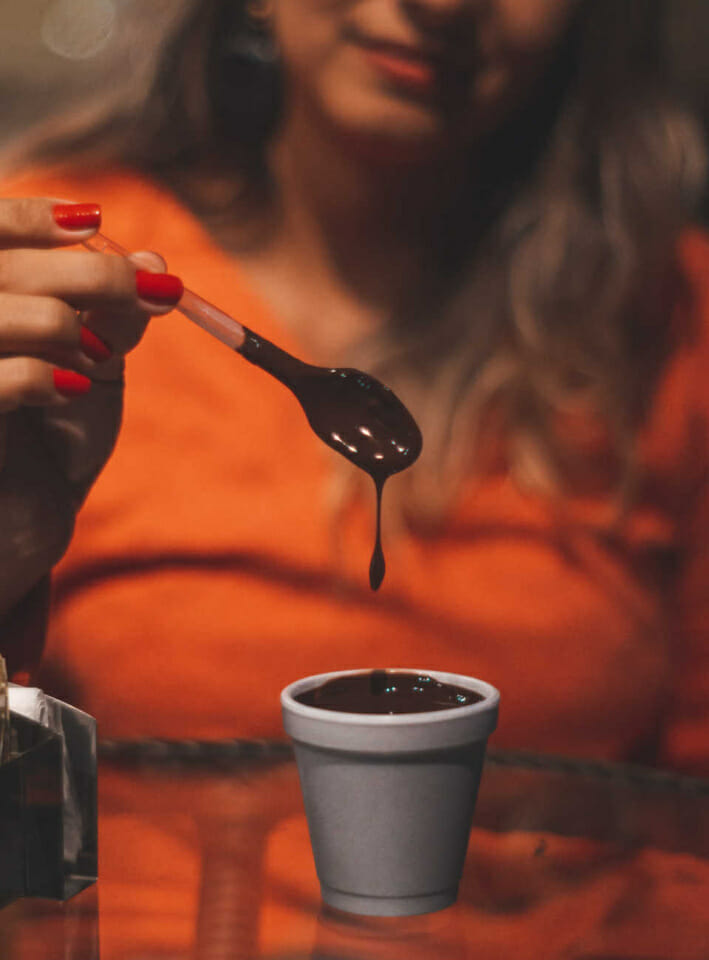 Dark chocolate vs milk chocolate
There are more than just the extra health benefits of chocolate that make dark chocolate a winner. Dark chocolate is preferred by nutritionists over milk chocolate as it has reduced sugar.
It contains naturally occurring magnesium needed for relaxation, muscle contraction, and normal cardiovascular function.
You may need to start with a small amount to get your tastebuds used to the bitterness of dark chocolate. Still, as you continue to consume it, it becomes more and more appetising.
This doesn't mean milk chocolate is missing any of the health benefits of chocolate. It just isn't as healthy as dark chocolate.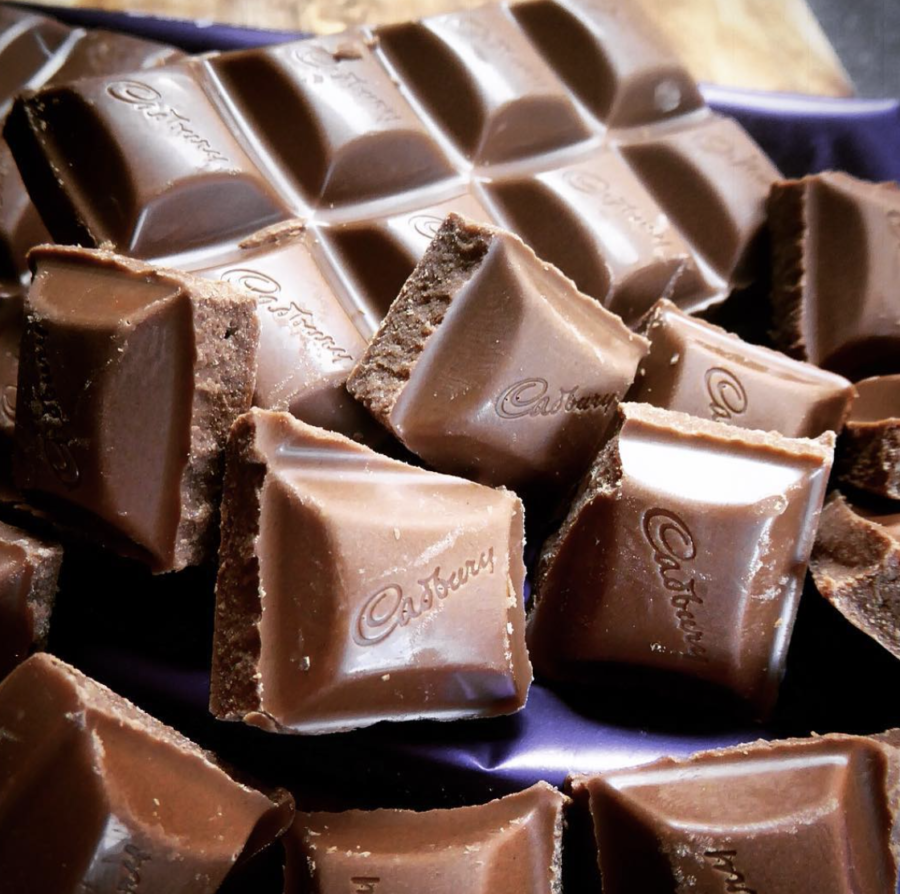 In some cases, chocolate helps boost metabolism
Think chocolate is fattening? This may not be the case. In fact, in some cases, it helps you lose weight! Just another one of the health benefits of chocolate.
According to some experts, melting a small square of dark chocolate on your tongue for about 20 minutes before you eat can trigger your hormones into thinking you're full.
As dark chocolate contains healthy fats, it can slow the absorption of sugar into your bloodstream. It can also help prevent sugar spikes.
Healthy chocolate recipes to satisfy your cravings
If you want to take advantage of these health benefits of chocolate, we've got a few delicious and healthy recipes for you to try.
Beetroot and Banana Brownie
Beetroot and Banana Brownie
Beets are high in fibre and promote the growth of good bacteria in your gut. Having plenty of healthy
bacteria in your digestive system helps fight disease and boost your immune system.

They ​​contain vitamin C, zinc, iron and antioxidants to promote a healthy immune system. Antioxidant-rich dark
chocolate with at least 50 to 70 percent cacao enhances blood flow, improves gut health, and eases
stress — all effects that may indirectly strengthen your immune system.
Ingredients
● 200g dark chocolate (70% cocoa), chopped

● ½ cup extra virgin olive oil, plus 1 tsp extra


● 4 eggs


● 2 tsp vanilla bean paste


● ¼ cup rice malt syrup


● 5 small beetroot, peeled, grated finely


● 2 medium ripe bananas, mashed


● ¾ cup fine walnuts


● ½ cup cacao nibs


● 1 cup wholemeal plain flour


● ¼ cup raw cocoa powder
Directions
Preheat the oven at 180C and grease a 20cm x 30cm slice pan.
Place 150g chocolate in a small heatproof bowl over a saucepan of simmering water, stir
until it's smooth and melted. Remove the bowl, cool slightly. Reserve the saucepan of
water.
Whisk the oil, eggs, vanilla and rice malt syrup in a bowl until well combined. Add the
melted chocolate, beetroot, banana, ½ cup of walnuts and ¼ cup of the cacao nibs- stir
until just combined.
Sift flour and cocoa over the beetroot mixture; add the husks left in the sieve and fold to
combine. Spoon the mixture into the lined pan, smooth the surface.
Combine the remaining walnuts and cacao nibs with the extra oil. Sprinkle over the
brownie mixture.
Bake for 25 minutes or until firm to touch.
Once cool, transfer to a wire rack to cool completely.
Return the reserved saucepan of water to simmer. Place the remaining 50g of chocolate
in a small, clean and dry bowl over the pan of simmering water, stir until smooth and
melted.
Drizzle chocolate over the brownies, stand for 5 minutes until chocolate is set.
Cut into 16 bars to serve.
Snickers slice
Snickers slice
Total time
1hour
10minutes
Finding that healthy sweet snack can be difficult. These snack bars are filled with protein and energy so are great in-between school and after a workout.
Ingredients
1 1/2 cup roasted peanuts


1 1/4 cup medjool dates, pitted


1 1/2 tbsp cocoa powder


1 tbsp coconut oil, melted


150g dark chocolate, melted
Directions
Line a loaf tin with baking paper and set aside.
Blitz peanuts in a blender or food processor for 30 seconds, then add dates,  cocoa and coconut oil and continue to blend until a paste has developed.
Press mixture into the prepared tin and refrigerate for 2 hours.

Remove from the fridge, cut into 6 even slices, then drizzle with melted chocolate.
Chocolate & Oat Bliss Balls
Chocolate & Oat Bliss Balls
Course: Dessert, Snack
These chocolate and oat bliss balls are the perfect afternoon pick me up. Oats have many benefits including supporting gut health by promoting healthy bacteria and easing constipation, supporting healthy blood sugar levels and providing us with a range of vitamins, minerals and antioxidants. Avenanthramides is one of the antioxidants that are found it oats; it has an anti inflammatory and anti-itching effect.
Ingredients
2 cups medjool dates, pitted & soaked in hot water

1 3/4 cups rolled oats

1 tbsp cacao

2 tbsp coconut oil

1 tbsp chia seeds

1 tsp vanilla extract

2 tbsp shredded coconut
Directions
Blitz 1/4 cup of oats in the blender or food processor until it resembles a fine crumb, then set aside for rolling the balls in.
Soak the dates for at least 30 minutes in the boiling water and then drain.
Place soaked dates, remaining oats, cacao, coconut oil, chia seeds, vanilla and coconut into a blender or food processor and blitz.
Roll the mixture into 12 even balls and roll them in the blitzed oats. Store in an airtight container and pop them in the fridge or freezer.
Notes
1. One serve provides 25% of the RDI fibre. Dietary fibre, also known as roughage or bulk, includes the parts of plant foods your body can't digest or absorb. Assisting to improve your gut microbiome, energy release and immunity.
One serve provides 9% of the RDI of potassium. Potassium is necessary for the normal functioning of all cells. It regulated the heartbeat, ensured proper functioning of the muscles and nerves and is vital for synthesising protein and metabolising carbohydrates.
One serve provides 10% RDI of Zinc. Zinc is a mineral that is essential for many of the body's normal functions and systems, including the immune system and wound healing.
Nutrition Facts
12 servings per container
---
Amount Per ServingCalories175.1
% Daily Value *
Total Fat 5.2g

8

%
Total Carbohydrate 27g

9

%

Dietary Fiber 4.8g

20

%
Sugars 19.5g

Protein 5g

10

%
---
* The % Daily Value tells you how much a nutrient in a serving of food contributes to a daily diet. 2,000 calories a day is used for general nutrition advice.
Why you crave chocolate on your period
Get Access to more healthy chocolate recipes on the Healthy Mummy Wellness App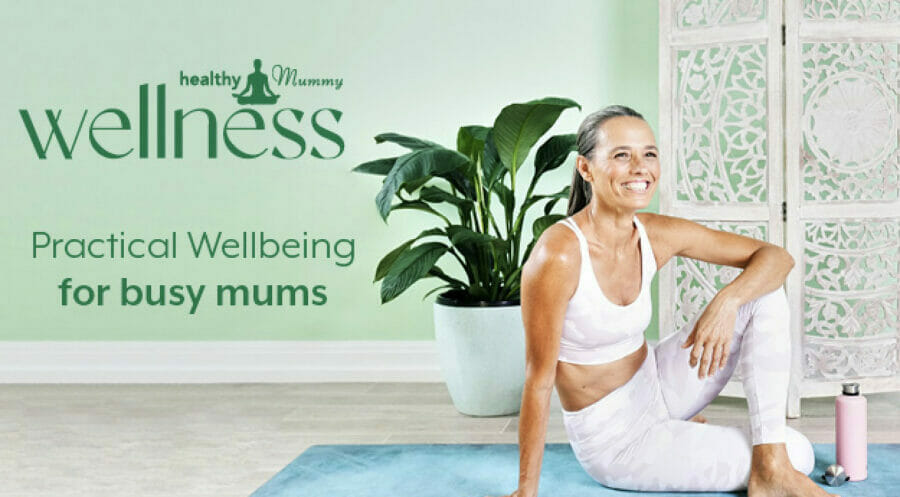 The Healthy Mummy Wellness app is built to support mums' mental, physical and social well-being.
We have expert advice to help mums makeover their minds, transform their mood, manage their hormones, sleep better and engage with their family.
You can listen to podcasts, read blogs, work out with our trainers and find healthy, family-friendly recipes from the palm of your hand.